French designers and skateboard lovers, Nicolas and Cédric of HERVET-MANUFACTURIER, have created a limited-edition skateboard with Daft Punk. The duo was inspired by the cover of Daft Punk's single "Da Funk", and the now-iconic band logo. The board is made of molded beechwood and clad with Formica laminate on both sides. The top face is laser-engraved with a "grip effect" Daft Punk logo pattern, with a 2-color inlayed logo on the bottom. The skateboard is limited to a series of 25 units per colorway with a laser-etched edition number.
HERVET-MANUFACTURIER is a French furniture design company owned by cousins, Nicolas and Cédric Hervet. Nicolas has received repeated honors in woodworking, marquetry and sculpture, and worked with several furniture companies for a few years before starting his own and designing for individuals, hotels and luxury stores. Cédric graduated from French art school "École Boulle" in Paris and worked with Daft Punk as their creative director. He also worked on the Academy Award-winning short film "Logorama" as a visual artist.
Nicolas and Cédric's passion for quality and design brought them together for several years, working on various prototypes and models, mixing traditional techniques with new materials and modern design. In 2014 they formed HERVET-MANUFACTURIER with this ideal in mind. Their designs are inspired by the boldness and geometry of modern architecture, while using only age-old techniques and traditions of making hand-crafted luxury furniture.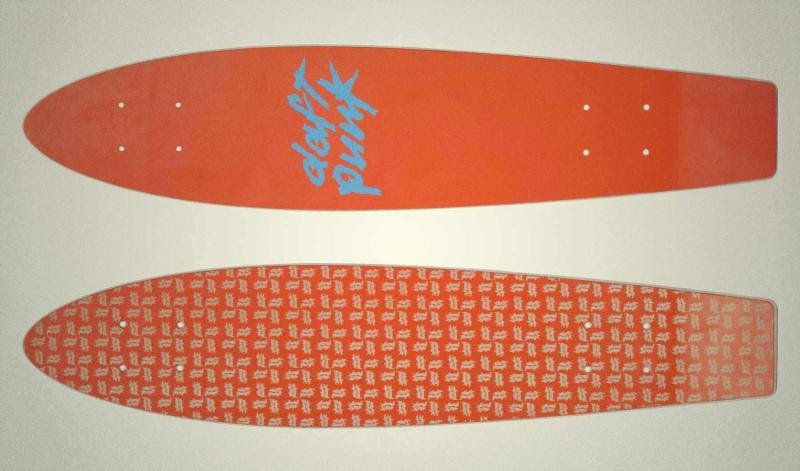 http://www.daftpunk.com/the-da-funk-limited-edition-skate-deck.html