Following a series of  singles, Toronto's Absolutely Free is ready to announce the details of Absolutely Free., their debut full-length record. Set for release on October 14th via Lefse Records, Absolutely Free.finds the three piece honing and expanding their sound, all the while integrating new analog electronics, African polyrhythms, psychedelia, as well as wisps of Bollywood and Krautrock.The band has made the first single from the album, "Beneath the Air," available to stream.
Absolutely Free emerged from the ashes of cult art-punk band DD/MM/YYYY, which disbanded following eight years of shows (574 in 18 countries, to be exact). As Absolutely Free, Matt King (drums/vocals), Moshe Rozenberg (synths/drums), and Mike Claxton (synths/bass) set out to create more hypnotic and patient music than their previous work, as evidenced by the band's early singles for One Big Silence: UFO/Glass Tassel (2012) and On The Beach/Clothed Woman, Sitting (2013). Their first singles earned them coveted spots opening for the likes of Beak>, Youth Lagoon, and Dan Deacon, among others.
For their debut album, the band entered the studio with producer Mike Haliechuk (Fucked Up,Austra). The end result of these sessions was Absolutely Free., a proper introduction to the band that showcases the band's ability to hone a diverse spectrum of influences, while maintaining a unified narrative. The album opens with "Window of Time," a track that builds from a low drone that's slowly subsumed by cyclic organs, found sounds, and the band members' own plaintive chanting. The ecstatic opener segues seamlessly into "Beneath the Air," a driving, summery build and the band's leanest song to date. Tracks like "Vision's" and "Earth II" fuse the elegant psychedelica of Phil Spector with a patient krautrock motorik. Absolutely Free are currently working on a feature length film score, commissioned remixes, and the third installment in their singles series.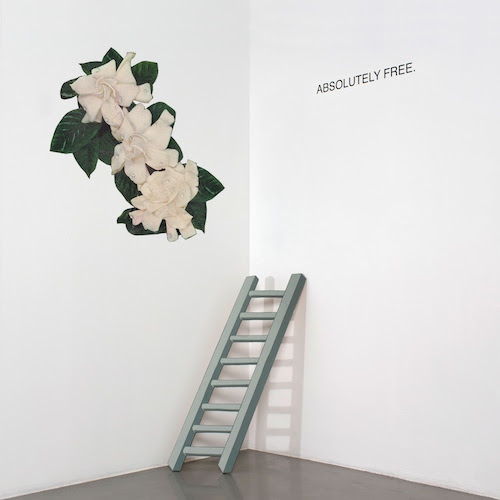 Absolutely Free — Absolutely Free.
(Lefse Records – October 14th, 2014)
Tracklisting
1. Window of Time
2. Beneath The Air
3. Striped Light
4. Burred Lens
5. Earth II
6. My Dim Age
7. Vision's
8. Spiral Jetty