The Vaselines have announced details of the release of a new album. V For Vaselines will be released through Rosary Music onOctober 7th in North America.
Self-produced and recorded in their native Glasgow at Mogwai's Castle Of Doom studio, the album was engineered by Tony Doogan(Belle & Sebastian, Mogwai).
Featuring musical contributions from Michael McGaughrin (1990s), Frank Macdonald (Teenage Fanclub), Stevie Jackson (Belle & Sebastian), Graeme Smillie (Olympic Swimmers), Paul Foley (Mandrake Shepherd) and Scott Patterson (Sons & Daughters), the album is available on vinyl, CD, download and limited edition cassette.
V For Vaselines is a celebration of the continued chemistry of co-conspirators Eugene Kelly & Frances McKee. "We just work together well," says Eugene. "I don't know what it is, but when we get together, it creates a sound we couldn't do separately."
Recorded quickly and spontaneously with support from Creative Scotland, the album, was in part, inspired by Eugene chancing upon a Ramones covers band in Glasgow. "After that, I just wanted to write some really short punk rock songs, just get into people's ear really straight away, and then get out of there really quickly."
V For Vaselines is their third album having formed in Glasgow in 1987. Their debut, Dum Dum was released on the legendary Scottish label 53rd & 3rd in June 1989. The band broke up the same week as the album was released, but subsequent patronage by Kurt Cobain (Nirvana covered 3 Vaselines tracks), saw the bands early singles compiled by Sub Pop in 1992.
Both continued to write and record, and reunited in 2008 to play Sub Pop's 20th anniversary festival as well as some further shows around the world. They would eventually release their second album, Sex With An X, on Sub Pop in 2010.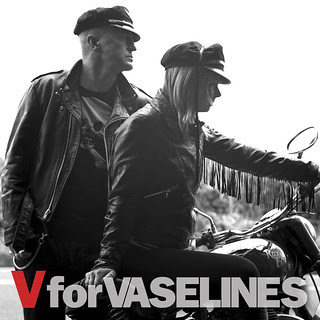 The track listing is as follows:
1.   High Tide Low Tide
2.   The Lonely L.P.
3.   Inky Lies
4.   Crazy Lady
5.   Single Spies
6.   One Lost Year
7.   Earth Is Speeding
8.   False Heaven
9.   Number One Crush
10. Last Half Hour