Popstrangers share the video for their first single "Country Kills" off their forthcoming sophomore release, Fortuna. Director Conan Roberts said, "The video was inspired by a lot of collage artists, colour printed pages during the 1970's, how cool people playing in bands look in b&w and my good buddy Royal Limp's tumblr page." Adam Page from Popstrangers added, "We've known Conan via email for awhile now. He plays bass in the London band Mazes and also runs a small bedroom label called Italian Beach Babes. When it came time to make a video, it was natural for us to ask him. He makes a lot of videos for his own band and has also worked with Micachu and the Shapes, Cheatahs and Male Bonding. We really liked the idea of the picture-in-picture concept and felt it worked with the aesthetic of the song and album as a whole. . It has chorus for days, and it looks pretty, so watch." Carpark will release Fortuna on May 27th.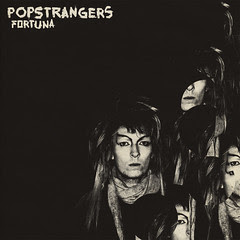 Popstrangers – Fortuna
(Carpark – May 27, 2014)
Tracklist:
1. Sandstorm
2. Don't Be Afraid
3. Distress
4. Country Kills
5. Violet
6. Tonight
7. Her
8. Destine
9. Right Babies
10. What's On Your Mind? 
European Tour Dates:
04/11 Italy – Brescia @ Lio Bar 

04/12 Switzerland: Roschach @ Trappenhaus 

04/14 Switzerland – Locarno @ Cantina Canetti
04/15 France – Reims @ Le Carreau
04/16 France – Paris @ L'Espace B 

04/17 France: Rennes @ 1988 Club 

04/18 France – Lyon @ Grrrnd Zero 

04/19 France – Dijon @ Festival MV 

04/25 Netherlands – Amsterdam @ Paradiso 

04/26 Netherlands – Venlo @ Queensday Festival 

04/28 Belgium – Gent @ Cafè Video 

05/02 NL – Vlieland @ Here Comes the Summer Festival