London-producer Moon Gangs has unveiled the second track 'II' from his upcoming debut self-titled EP out May 5th via Sexbeat Records (White Lung, Eagulls, GAPS). This new track comes alongside the announcement of new London dates including an EP launch show on May 6th at The Waiting Room in London.
Having stated sci-fi B movies as one of his key influences for this EP, Moon Gangs, aka Will Young, takes you on a somewhat space-like journey is his latest offering. 'II' starts off slow with dark cinematic tones and finishes with futuristic sounds giving the listener a real glimpse of what to expect from the forthcoming record.
'Moon Gangs' EP was inspired by the likes of John Carpenter and Tangerine Dream soundtracks, plus synth driven Krautrock like Ashra Tempel and Popol Vuh. Contextually it stands somewhere in between modern day electronic outsiders such as The Haxan Cloak and Blanck Mass. With a DIY thesis behind it, Young reigned in the help of his friends to help make the final product. The record was mixed mixed by Matt J of Hookworms / Suburban Studios and Linda Jarvis of Echo Lake designed the artwork for the sleeve and record. All three of the tracks were mastered by East London producer and engineer Rory Attwell whose credits include work for Palma Violets, Big Deal & Veronica Falls.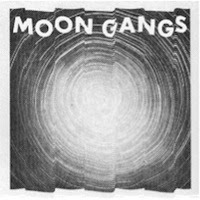 The forthcoming record is made up of three tracks, 'I', 'II' and 'III' that were recorded over a three month period in late 2013. They were edited down from ten hours of improvised synth recordings, which were made entirely using looped Eurorack modular synths, into three intense movements, each just shy of ten minutes long.
Moon Gangs live:
2nd May – Flashback Records (Instore), LONDON
6th May  – The Waiting Room, LONDON
20th-21st June – Camden Crawl, LONDON