Moon Gangs', the musical alias of London-based Will Young, debut EP is set for release on May 5th and the first track from the upcoming record 'I' is available to stream online now.
'Moon Gangs' EP was inspired by the likes of John Carpenter and Tangerine Dream soundtracks, plus synth driven Krautrock like Ashra Tempel and Popol Vuh. Contextually it stands somewhere in between modern day electronic outsiders such as The Haxan Cloak and Blanck Mass. With a DIY thesis behind it, Young reigned in the help of his friends to help make the final product. The record was mixed by Matt J of Hookworms / Suburban Studios and Linda Jarvis of Echo Lake designed the artwork for the sleeve and record. All three of the tracks were mastered by East London producer and engineer Rory Attwell whose  credits include work for Palma Violets, Big Deal & Veronica Falls amongst others.
The forthcoming record is made up of three tracks, 'I', 'II' and 'III' that were recorded over a three month period in late 2013. They were edited down from ten hours of improvised synth recordings, which were made entirely using looped Eurorack modular synths, into three intense movements, each just shy of ten minutes long.
With a variety of different set ups, Young sometimes performs solo and sometimes performs with one, two or three drummers. All the shows are performed fully improvised with no computers, samples or backing tracks.
Moon Gangs self-titled EP is out on May 5th as a digital download and a limited edition one sided 12″ vinyl.  The record sleeve and the blank side of the vinyl have been screen printed onto, for thislimited edition release.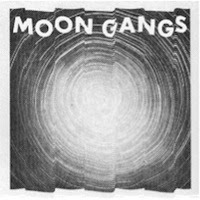 ALBUM TRACKLISTING
I
II
III
MOON GANGS TOUR DATES
13th March – Alibi, LONDON
14th March – Shacklewell Arms, LONDON