Kid Wave's debut album Wonderlust is a crafted set of pop songs that associate with life on the Californian coast rather than London, where the band reside. It's made all the more remarkable by the fact that 22 year old singer/songwriter Lea Emmery and guitarist Mattias Bhatt hail from the south-east coast of Sweden where sub-zero Baltic winds blow in to freeze the land for several months of the year, and that this debut was recorded in Stockport during the darker days and crepuscular nights of a dank English winter.
Kid Wave craft slacker indie rock and transcendental dream-laden pop of a distinctly early 90s bent – music to lose yourself in and give your life to. We hear shades of Lush and Dinosaur Jr. in their sonic sunshine, though other ears might recall PJ Harvey, The Lemonheads, The Breeders, Pavement, Teenage Fanclub. But these are all bands largely operational before the members of Kid Wave were even born – artists who singer Lea readily admits she doesn't always necessarily know much about.
Wonderlust, is an aptly-titled for an international band whose founding members' wanderings lead them to congregate in the capital. Kid Wave began life as a solo when Lea Emmery relocated from Norrköping (a city sometimes referred to as "Sweden's Manchester") to London in 2011 at the age of 18. She knew no one, had no band, no contacts. After several years playing classical piano at a local college in Sweden had lead to a stint in an all-girl punk band and though that tenure was short-lived, there was simply no turning back.
What began life as solo demos soon morphed into Kid Wave when Mattias Bhatt, part of the same clique of indie kids back in Norrköping an now in London, signed up. From Perth, Australia, Serra Petale was teaching drums at a college where Lea was studying sound engineering and seemed "impossibly cool". She was in. Bassist Harry Deacon was a friend-of-friends.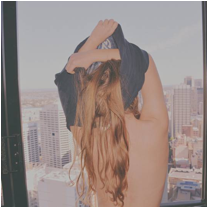 Wonderlust Tracklisting
1. Wonderlust
2. Gloom
3. Honey
4. Best Friend
5. Walk On Fire
6. Baby Tiger
7. All I Want
8. Sway
9. Freeride
10. I'm Trying To Break Your Heart
11. Dreaming On