The recently reunited Constantines are set to reissue their landmark 2003 album, Shine a Light, as a vinyl-only release on Sub Pop June 9th in Europe and June 10th in the U.S. The album will be reissued in Canada June 10th by You've Changed Records.
Shine a Light has been out of print on vinyl since 2006. This 12-track reissue will feature slightly altered artwork and comes with a 7" single of the following tracks: "Thank You for Sending Me an Angel" (Talking Heads cover) and "Hotline Operator (2003)" from the Nighttime CD-single and "Raw Youth" (CBC Radio 3 recording of a Royal City cover) from the Young Lions CD-single. A limited "Loser Edition" of this Shine a Light reissue, on orange vinyl, will be available at select independent record stores and with pre-orders at You've Changed in Canada, and Sub Pop for the rest of the world.
To celebrate the reunion and reissue, the Constantines have also announced a handful of tour dates for this summer. Additional live dates will be announced soon. In related Constantines news, the band's Bry Webb has also announced a solo album, Free Will, that will be available May 20th on Idée Fixe Records. He'll support  the album with a series of solo dates opening for Sub Pop recording artist Chad VanGaalen in May.
About the Constantines Shine a Light:
Shine a Light was the Constantines' second full-length and first for Sub Pop. And the record is ambitious, combining a steady diet of '90s DC rock (like a Joe Strummer-fronted Fugazi, it's been suggested), with dub-inflected bass, blue-eyed soul and a fundamental punk, anytime/anywhere aesthetic (perhaps best described by drummer Doug MacGregor as, "Like an unwelcome mix of a Memphis Clash and breakneck dub"). The opening lines from the title track hint at the difficulty in nailing down the elusive "it" that is at play on this record, "Don't talk to me about simple things/There's no such thing/All a man can build is his vision/And I love my man for trying."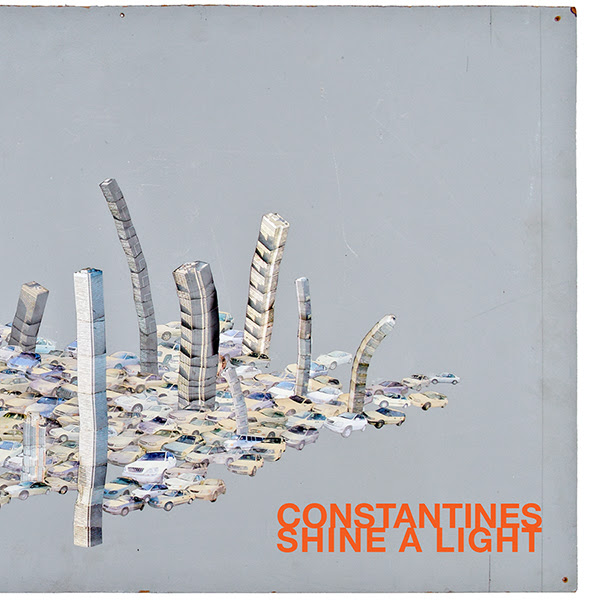 Constantines
Shine a Light
Tracklisting
1. National Hum
2. Shine a Light
3. Nighttime/Anytime (It's Alright)
4. Insectivora
5. Young Lions (Soundcloud / YouTube)
6. Goodbye Baby & Amen
7. On to You
8. Poison
9. Scoundrel Babes
10. Tiger & Crane
11. Tank Commander (Hung Up in a Warehouse Town)
12. Sub-Domestic
Bonus 7"
A1) "Thank You for Sending Me an Angel" (Talking Heads cover / Nighttime Single)
A2) "Raw Youth" (CBC Radio 3 recording of a Royal City cover / Young Lions Single)
B1) "Hotline Operator (2003)" (Nightime Single)
Constantines 
Jun. 08 – Toronto, ON – Field Trip Festival / Fort York & Garrison Common
Aug. 03 – Sackville, NB – SappyFest
Aug. 22 – Peterborough, ON – Peterborough Folk Festival
Aug. 23 – Ottawa, ON – Arboretum Festival
Bry Webb Solo Dates 
May 14 – Cambridge, MA – TT The Bear's Place*
May 15 – Brooklyn, NY – The Bell House*
May 16 – Philadelphia, PA – Milkboy*
May 17 – Washington, DC – Rock and Roll Hotel*
May 18 – Pittsburgh, PA – Brillobox*
May 19 – Cincinnati, OH – MOTR Pub*
May 20 – Columbus, OH – The Basement*
May 21 – Indianapolis, IN – Do317 Lounge*
May 22 – Chicago, IL – Empty Bottle*
w/ Chad VanGaalen