On September 30, Buck 65 – "a major rhymer, performer, storyteller, humanist visionary, and student of the DJ arts" (Robert Christgau) – will release his new album 'Neverlove' on Warner Music Canada. "Neverlove is a divorce record, plain and simple," he says. "The old albums were made of wood; this one is made of steel. It doesn't sound like anything I've ever made before."
As an album preview, Buck 65 has released the song "Only War" which blends the twitchy beats of trap music with a soaring operatic chorus sung by Tiger Rosa as one of nine songs to feature soaring female singers complementing Buck's gruff delivery. Watch the "Only War" lyric video below to get a taste.
Though inspired by a dark time in his life, songs like "Heart of Stone" and "A Case For Us" are among the catchiest of his career. His old Anticon labelmates Alias and DJ Mayonnaise produced the hard-hitting opener "Gates of Hell" and Broken Social Scene's Justin Peroff played drums on several songs. Other producers on the album include Dean Nelson (Beck, Charlotte Gainsbourg, Thurston Moore), Martin Troemm, and Sunclef.
The album adds to a small tradition of divorce records like Bob Dylan's 'Blood on the Tracks' and Marvin Gaye's 'Here My Dear.' "'Neverlove' is about the heartbreak, confusion, anger and madness I experienced after losing a love I expected to last the rest of my life," Buck says. "Making this record is how I got through a terrible time in my life. I hope I never write another one like it."
Buck 65 will tour North America this year, dates coming soon.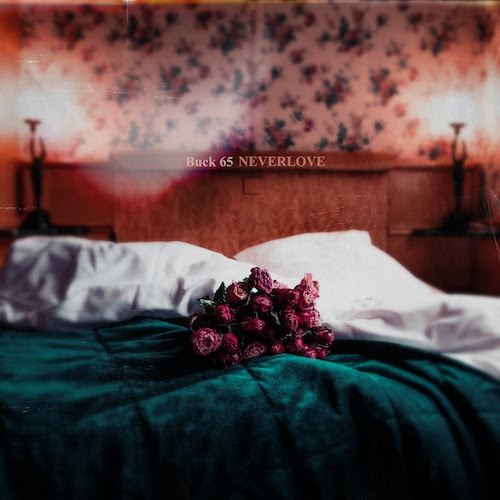 'Neverlove' Tracklist:
01. Gates of Hell
02. Je Taime Mon Amour
03. That's The Way Love Dies
04. Love Will Fuck You Up
05. Only War
06. Baby Blanket
07. Heart of Stone
08. Super Pretty Naughty
09. She Fades
10. A Case For Us
11. Roses in the Rain
12. Danger and Play
13. Superhero in My Heart
https://www.facebook.com/buck65